I have been a student for almost six years now, and in those six years we have got married, bought a house, had two babies – life continues as usual of course! So in amongst all of this real life-stuff going on, I ha desperately have to try and stay organised. This can be really hard with two little ones running around and the tween pulling on my arm and ear. I thought I would share with you what helps to keep me organised amongst the chaos – sometimes it's the little things that really help!
My organised mess??
Viking Direct
have been kind enough to send me these supplies to help me on my way in my final year as an undergraduate.
1. Box File
I tend to use these to keep all of my notes in. I don't always have time for filing or sorting papers, but I know that at least if they go in the box they are safe away from tiny hands and I can sort them out when I get a bit of spare time. I love how the lever pins down my notes – they can be pretty messy at times, especially if I have written them on the go. This way everything is kept together.
2. Pens
Of course pens. I try and keep these all together away from the kids, but this is not always possible. Rosie is constantly coming up to me and saying "Write Rosie" so when I do, she nabs the pen and does all sorts of spectacular designs.
3. Post-Its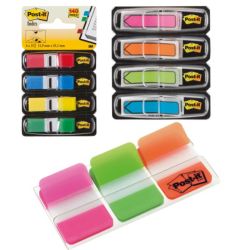 Obsessed by them. They can hold my page, they get stuck on my notes, on my books – I write sticky notes for the kids, to-do lists, shopping lists – you name it, it goes on a post –it. Love them.
4. Post-It Markers
Now these are really beautiful. I use these to highlight key points in my books or as dividers in my note books. Essential. I get slightly panicky when these start to run out.
5. Highlighters
Some people don't like to 'ruin' their books with highlighting or writing. I am not one of those people. I love having my books covered in notes and everything!
So there you go – here are my essentials. The main thing now is to keep the things away from the kids – which is a tougher task than you might think!